These 8 Best Ever Steak Marinades are perfect for freezer meal prep and each of the marinades only contain 5 easy ingredients.
Ingredients for steak marinades
There are four important components for making steak marinades:
Acid: The first ingredient in steak marinades is acid. This can be vinegar, citrus (lemon and lime juice are what I use in most of my marinades) or wine. The acid tenderizes the meat to prepare it for cooking.
Flavouring: Different herbs and spices give each marinade a distinct flavour. Try out different flavourings until you find a combination you love!
Oil: The oil holds all of the ingredients together and adds moisture to the meat. I like to use oil olive for its quality and taste, but really any type of cooking oil will work.
Salt: In addition to adding flavour, salt acts like a barrier to keep the juices inside the steak. This prevents the steak from drying out.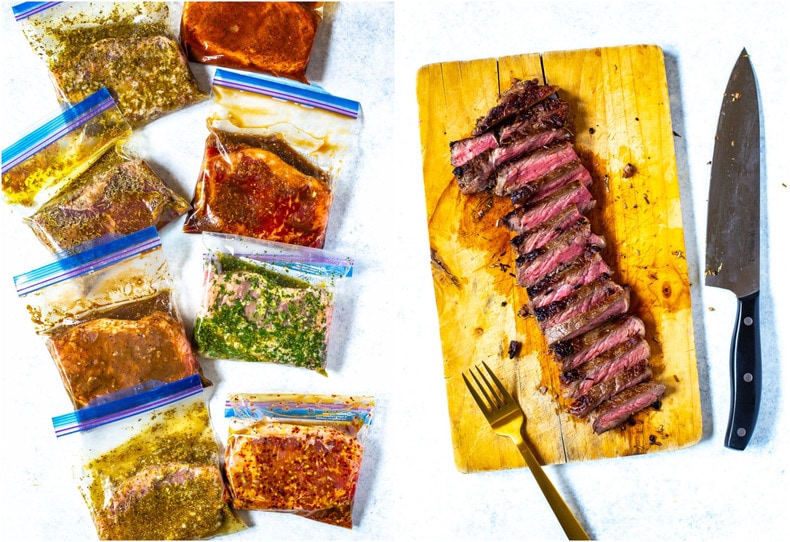 Skip the Ads and Get Right to the Recipes!
ZERO ADS on over 600 recipes!
Weekly Meal Plans, Grocery & Prep Lists
Bonus eBooks
Why should I marinade steak?
The purpose of a steak marinade is to infuse the meat with flavour. It's much more effective than seasoning during the cooking process, since marinades impart all of their flavour throughout the cut of meat. It's particularly important if the steak will be grilled, since a steak marinade nearly eliminates the carcinogens created by grilling.
In my steak marinade recipes, the citrus and vinegar ingredients serve to tenderize the meat. This makes it not only easier to chew but also easier to digest. It locks in the moisture for a better meal all around.
How to cook steak
You can cook these steaks on the BBQ or on the stovetop. Using a cast iron skillet is best for pan frying as the heat is distributed more evenly and gives the steaks a better cook. Grilling is a great option as well to get that smoky flavour most people associate with steak. Either way, you're going to be looking at approximately the same amount of cook time and cooking on high heat for a short time period for best results.
When it comes to cooking the steak, it all depends on how well done you like your steak. Follow the general guide below based on your preference:
1-2 minutes per side for rare
3-4 minutes per side for medium-rare
5-6 minutes per side for medium
7-8 minutes per side for well-done
Here's a great article that goes over the hand test for doneness. If in doubt, you should be looking at internal temperatures of 125-135 F for rare, 145 F for medium rare, 160F for medium and 170F for well done steak.
Steak marinade tips
The tougher the cut of meat, the longer it needs to be marinated. Tough cuts (such as sirloin, chuck and round cuts) are from the muscular parts of the body that do the most work. An animal's legs are always working hard and therefore will produce a tougher cut of meat. Those steaks should be marinated between six and 24 hours.
More tender cuts of steak (such as ribeye, tenderloin and t-bone) are found where the animal carries less weight and work. Four-legged animals (such as cows), do almost no work with their back muscles. Those muscles then provide the tender meat that we look for when we're going to be grilling. Those tender cuts will only need to sit in steak marinades for 15 minutes to one hour but you could marinate them for longer if you wish.
Here are the top cuts that I recommend you use for steak marinades:
Sirloin
Ribeye
Flank
Tri-tip
New York strip steak
T-bone
Filet mignon
Tenderloin
Skirt steak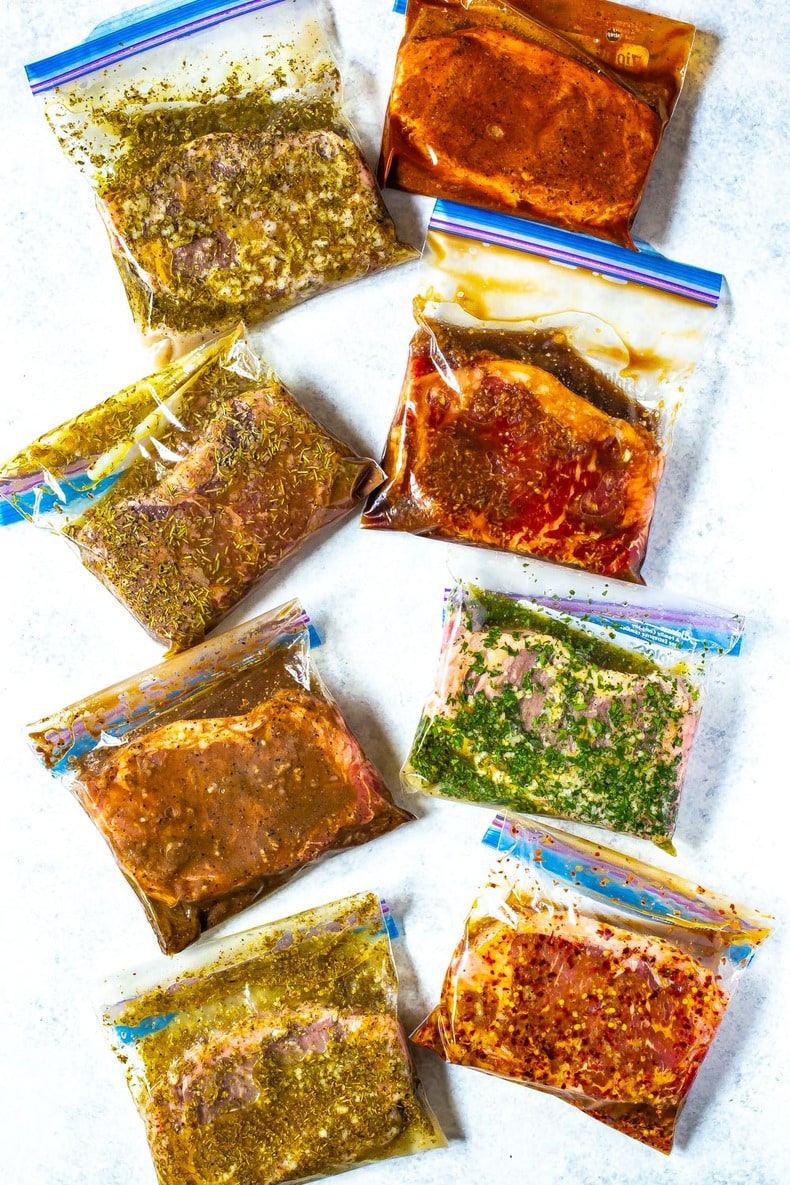 Frequently Asked Questions
Should you marinate steak in the fridge?
Any type of meat must always be marinated in the refrigerator. Bacteria grows quickly at room temperature, making the meat unsafe to eat.
How long should you marinade it for?
The simple answer is that you can marinate a steak anywhere from 20 minutes to 48 hours. If you're in a hurry, choose a more tender cut of steak (see more info on that above) and marinate it for a shorter time. Sometimes you really want to lock in that flavour though, or are meal prepping ahead, and in that case you can leave your steak marinating up to 2 days. Typically, I'd say that 4-8 hours is a happy medium. Get your steak marinating earlier in the day and then cook it later at night.
Should you pound the meat first?
Some people pound their meat to tenderize it. Even poultry can be pounded, but people tend to do steak because it's tougher, and sometimes even use meat tenderizers to soften it up. Personally, I find a good marinade will serve to tenderize the meat enough and then you don't have to go through any extra work so you can feel free to skip the pounding step.
Can you freeze steak with marinade?
Absolutely! Any of these steak marinades can be made in advance and frozen. Tightly seal a large Ziploc freezer bag to prevent leaking and the marinade will last in the freezer for about three months. Having a variety of steak marinades ready in your freezer makes grilling on a weeknight easy and fast! Just make sure you defrost your steak in the fridge earlier in the day.
Can you make the marinades ahead of time?
You can make the steak marinades themselves and keep them in mason jars in the fridge up to one week in advance. I wouldn't recommend any longer than that, especially for marinades with fresh herbs, as they can lose their flavour. But creating the marinades ahead of time is a great way to cut down on prep time if you like to do a little bit of meal prep earlier in the week before cooking.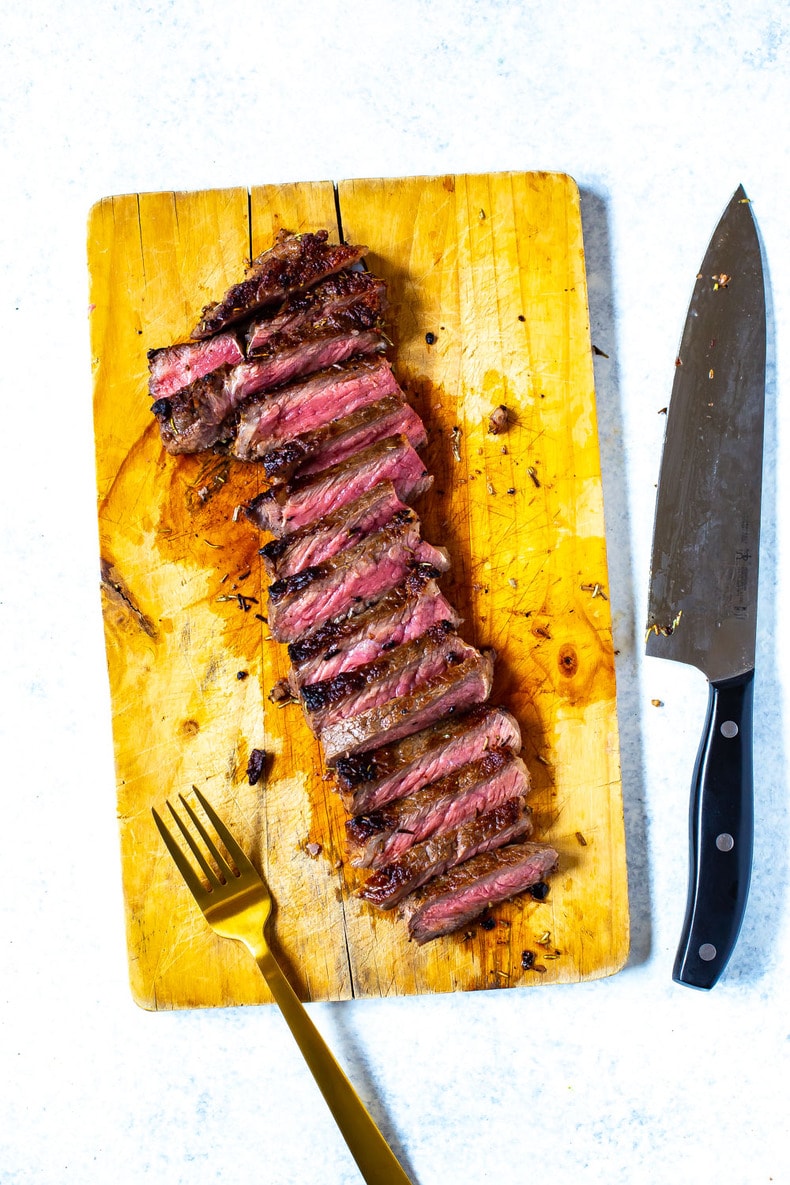 Best Steak Marinades
Pictured below are the eight of the best steak marinades. Don't be afraid to get creative but also keep in mind that you want the flavours of the steak to shine through! These marinades are delicious ideas for pan frying and summer grilling.
You'll find the all the recipes below in the recipe card. Each marinade listed will marinate between two to four steaks, and the marinades themselves are made up of mostly pantry staples such as oils, vinegars, herbs and spices. I don't tend to use more than four to five ingredients in steak marinades in order to keep things simple and to focus on the steaks themselves.
Take a look at the pictures below then jump to the recipe below to make the recipe of your choice!
Cilantro lime marinade
Calling all cilantro lovers! This is one of my favourite steak marinades that gives you a taste of summer all year long. It's made with fresh cilantro, lime juice and minced garlic.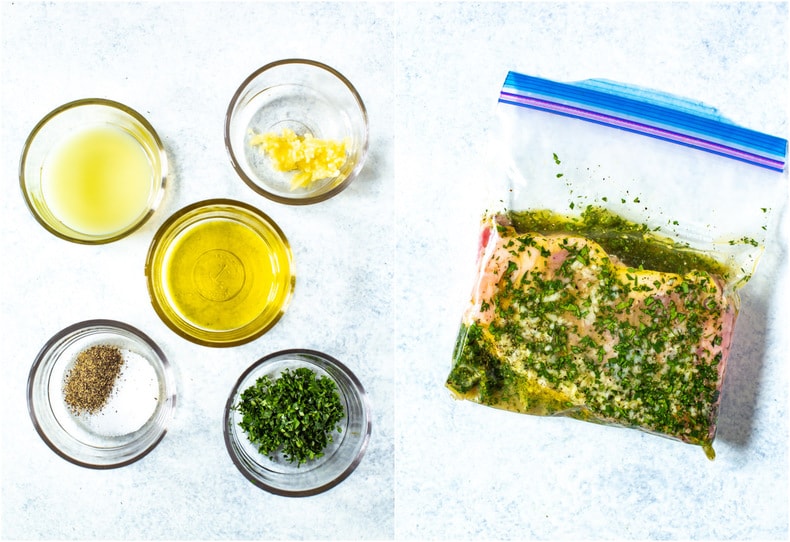 Orange chili marinade
This steak marinade is the perfect combo of sweet and savoury. You'll get the sweetness from the orange juice, with a bit of kick from the chili flakes!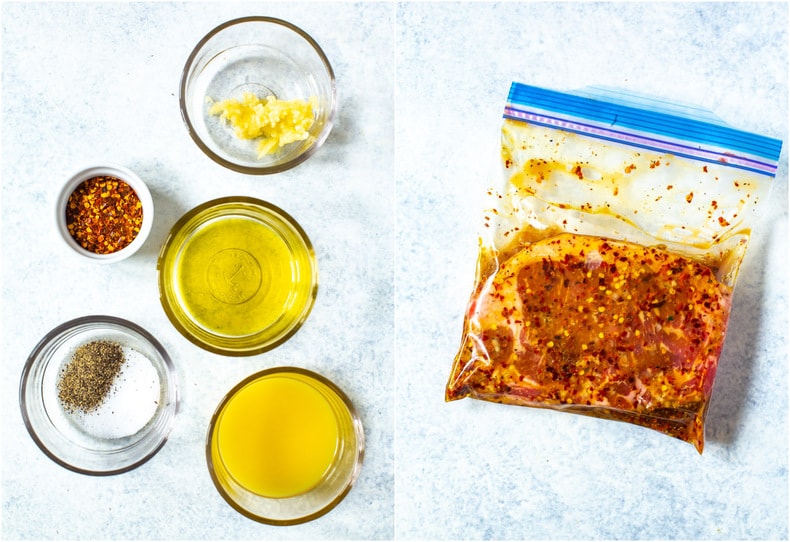 Tex Mex marinade
Take taco night to the next level with this Tex Mex steak marinade! Made with lime juice, chili powder and cumin, it makes for great fajitas or Mexican-inspired dishes.
Mediterranean marinade
Bring a taste of the Mediterranean to your dinner table with this flavourful marinade. The oregano really shines alongside the flavours of lemon and garlic.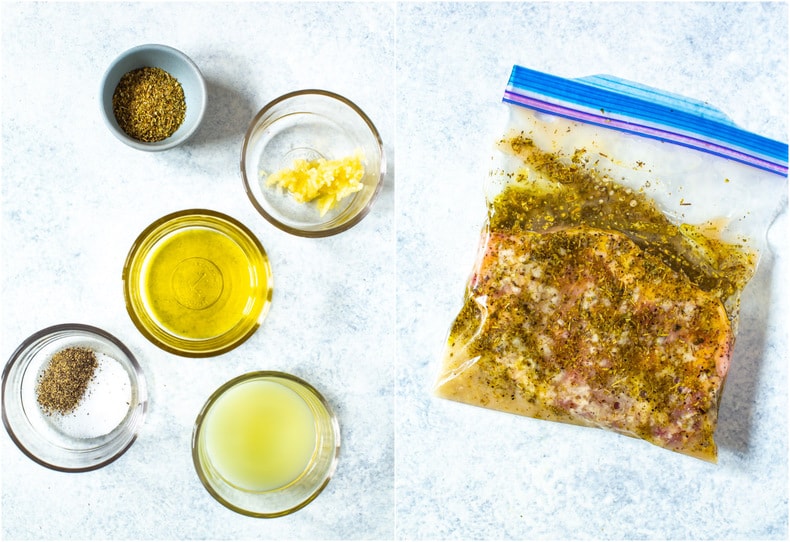 Balsamic marinade
Balsamic is so good in steak marinades! The balsamic vinegar helps tenderize the steak while also adding delicious flavour.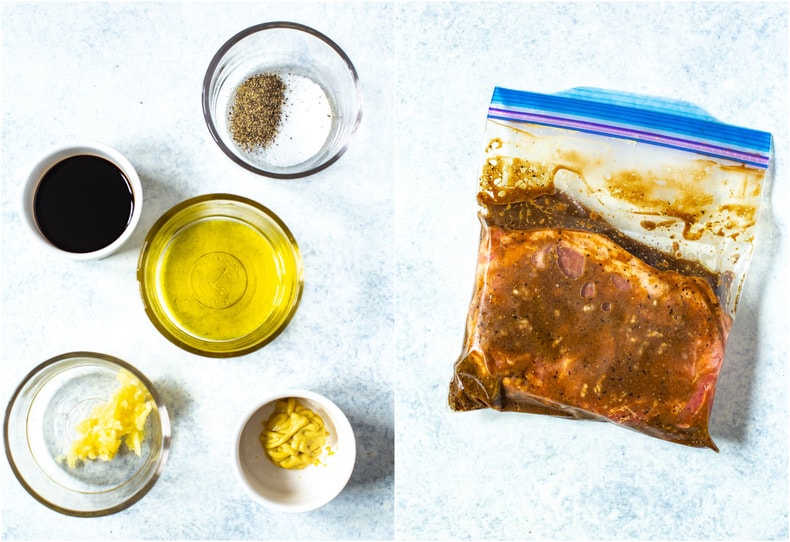 Teriyaki marinade
This delicious teriyaki steak marinade uses sesame oil for Asian-inspired flavours, in addition to soy sauce, brown sugar, garlic and gingerroot.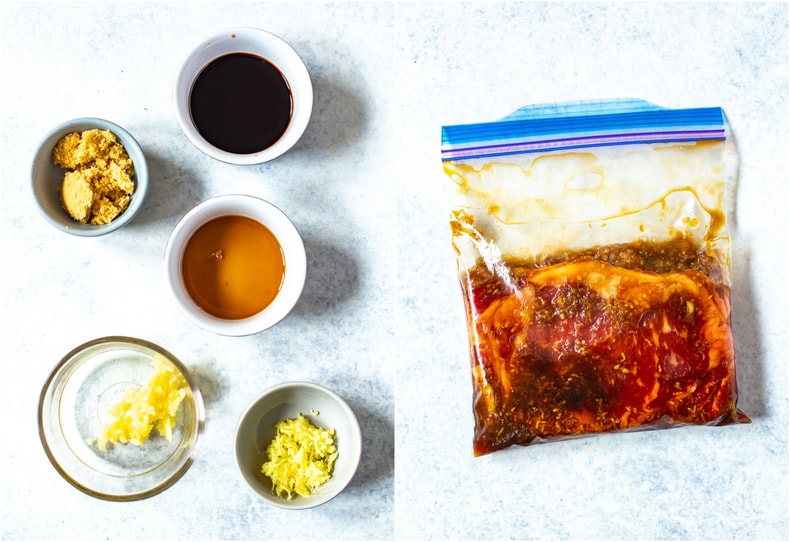 Rosemary red wine marinade
This rosemary red wine marinade is perfect for date night. The red wine acts as the acid, while the rosemary adds plenty of flavour.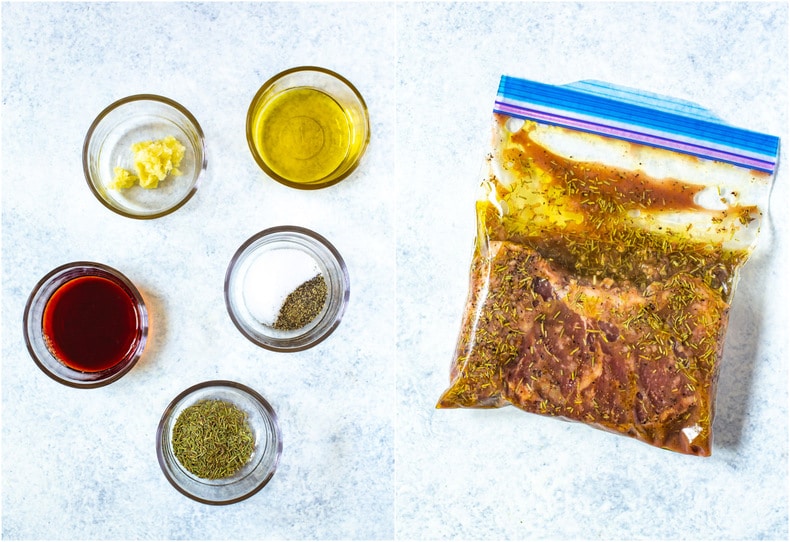 Garlic herb marinade
This garlic herb marinade is a classic and uses pantry staples you likely already have on hand. It's made with lemon juice, Italian seasoning and garlic.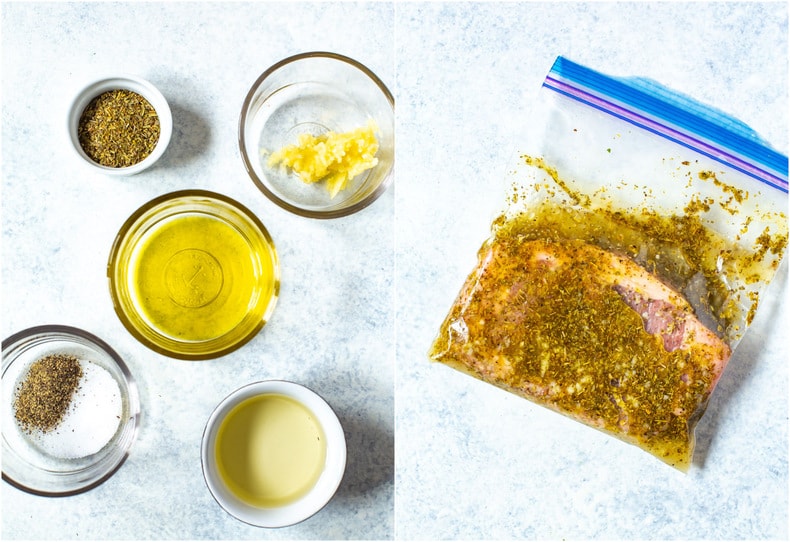 What to serve on the side
Here are some great side dish ideas to go with these steaks:
Storing steak marinades
If you are planning to recycle your steak marinades, I'd recommend boiling the marinade for about 10 minutes after you use it (assuming the marinade touched raw steak) then cool it completely in refrigerator before the next use. You'll likely lose some flavour, but it should still be delicious.
If you mixed the marinade in a bowl and reserved half of it (not ever touching the steak), then you can use it for other purposes such as a salad dressing or sauce for other dishes. I've even used leftover marinade in stir fries before!
Can you freeze marinated steak?
You can definitely freeze marinated steak! Freeze the steak in the marinade for up to 3 months in freezer-safe Ziploc bags. When you're ready to enjoy, let the steak defrost in the fridge overnight then cook as normal.
Wanna Learn How To Meal Prep?
My meal planning service, Dinner Prep Pro, removes the guesswork and helps you get dinner on the table in 15-20 minutes each night. My meal prep checklists only take 1 hour each week!
Meal prep tools for this recipe
Grab some glass meal prep bowls if you plan on turning these steaks into your weekly lunches.
I get all my grass-fed beef from Butcher Box, conveniently delivered to me frozen.
Get a meat thermometer to make sure your steak is cooked through
Use these Ziploc bag holders if you're marinating the steak then freezing it
8 Best Ever Steak Marinades Freezer Meal Prep
hese 8 Best Ever Steak Marinades are perfect for freezer meal prep and each of the marinades only contain 5 easy ingredients.
Print
Pin
Rate
Click Here to Remove Ads
Servings: 4 servings (2 steaks total)
Calories: 225kcal
Prevent your screen from going dark
Ingredients 
Rosemary Red Wine Marinade
Instructions
Mix together steak marinade of choice in a small bowl and pour over steak in a Ziploc bag. Marinate for 30 minutes or up to 24 hours.

ON STOVETOP: Heat olive oil in a cast iron skillet over med-high heat until oil starts to smoke. Add steak and sear for 3-4 minutes per side for medium-rare (this is if your steak is 1-inch thick). The steak should have an internal temperature of 135 degrees F. 

ON BBQ: Preheat BBQ grill to 450 F. Add steak and sear for another 3-4 minutes per side for medium-rare (this is if your steak is 1-inch thick). The steak should have an internal temperature of 135 degrees F.

Remove from heat and let rest for 5 minutes before slicing or chopping. Serve immediately with a side dish. Enjoy!

To freeze steak: Mix marinade ingredients as instructed above and add to freezer-safe Ziploc bag along with steak. Freeze up to 3 months. Let defrost in the fridge for 24 hours before pan frying or grilling.
Video
Notes
All you need to make a steak marinade is an acid, flavouring, cooking oil and salt.
Marinate tougher cooks of meat like sirloin, chuck and round cuts for longer (6-24 hours) and tender cuts for a minimum of 15 minutes.
Make sure to marinade the steak in the fridge to protect bacteria growth.
Freeze marinated raw steaks for up to 3 months then defrost and cook.
Nutrition
Calories: 225kcal (11%)Protein: 22g (44%)Fat: 23g (35%)Saturated Fat: 8g (50%)Cholesterol: 69mg (23%)Sodium: 59mg (3%)Potassium: 313mg (9%)Vitamin A: 15IUCalcium: 8mg (1%)Iron: 1.9mg (11%)
Join The Girl on Bloor Premium!
ZERO ADS!
Weekly Meal Prep Checklists
Bonus eBooks